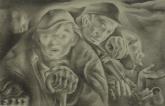 "Give"
Lithograph, c. 1935-43
8 3/8 in. x 12 7/8 in. (213 mm x 327 mm)
Edition of c. 25
Unframed

Availability: Sold
Price:

A fine impression of this superb depiction of hunger and poverty during the depression with full margins---done for the Chicago WPA-- additional impressions are in the SMITHSONIAN, ART INSTITUTE OF CHICAGO, and ILLINOIS STATE MUSEUMS.