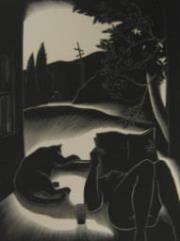 Portfolio of All Prints Published by the AAG
Various, 1936-37
Edition of c.200
Unframed

Availability: In Stock
Price: P.O.R

A complete collection of all 90 prints published by the American Artists Group. The publisher stressed that the prints were to be unsigned and in a large edition so as to be affordable to the general public. We were fortunate to know some of the artists who kindly signed the prints for us---sometimes with a dedication. All are in good condition. Included are many of the original acidic mats used for the prints. Includes work by artists such as Covarrubias, Cook, Dehn, Dwight, Freeman, Gag, Jones, Kent, Kuniyoshi, Landacre, Lozowick, Marsh, Ruellan, Soyer, Sternberg. Taylor, Woiceske and many others. It took us about twenty years to put this set together. Our guess is that there are very few surviving complete sets. A few prints are available individually but the set will be sold only intact. Further information available on request.