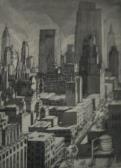 "Towers of Manhattan"
Etching and drpoint, c. 1930
14 1/4 in. x 10 3/8 in. (362 mm x 264 mm)
No stated edition
Unframed

Availability: Sold
Price:

A fine impression of this interesting New York subject with full margins---annotated "Drawn from the Barelva apartment, 26th floor of the Barbizon Plaza Hotel"