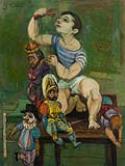 The Puppets"
Oil on canvas, 1949
40 in. x 30 in. (1016 mm x 762 mm)
Unframed

Availability: In Stock
Price: P.O.R.

Perhaps the artist's best known painting with wonderful provenance.Exhibited: Babcock Gallery---PAINTING IN THE USA, 1949, CARNEGIE INSTITUTE, PITTSBURGH, PENNSYLVANIA--- METROPOLITAN MUSEUM OF ART, AMERICAN PAINTING TODAY, 1950---Signed upper left---acquired directly from the artist, 1995.