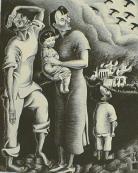 "Death Comes from Heaven"
Lithograph, c. 1938
11 in. x 8 7/8 in. (279 mm x 225 mm)
Edition of 10
Unframed

Availability: Sold
Price:

A fine impression of this important image with full margins illustrated in AMERICAN ART TODAY-NEW YORK WORLD'S FAIR 1939--Plate 995--- Also written on the mount "The entire proceeds goes to Madame Chiang Kai-shek for her war orphans"