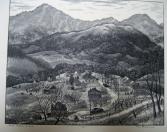 "Star Ridge, North Carolina"
Wood engraving, 1954
8 3/8 in. x 10 5/8 in. (213 mm x 270 mm)
Edition of 50, Number: #2
Unframed

Availability: Sold
Price:

A fine impression of this exceptional image with full margins annotated "Star Ridge, No. Car."--Betty Duffy, now deceased, the wonderful owner of the Bethesda Gallery, told me several years ago that a client once asked her indignantly why the artist titled it as such when there was clearly a car in the image.