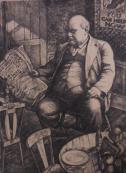 "You Can Help Now"
Etching, 1943
11 7/8 in. x 9 in. (302 mm x 229 mm)
No stated edition
Unframed

Availability: In Stock
Price: $1500

A fine impression of this extremely rare topical image with full margins. It is evenly light struck in the image only visible when the overmat is lifted. A great find.