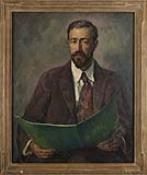 "Portrait of Jules Guillaume"
Oil on Canvas, 1918
32 in. x 26 in. (813 mm x 660 mm)
Framed

Availability: In Stock
Price: P.O.R

A fine early painting signed upper left. The sitter is Baron Jules Guillaume, a Belgian diplomat. The painting is illustrated in the monograph, LEON KROLL-A SPOKEN MEMOIR, PLATE 17. in its original frame.