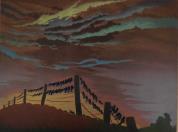 "Dawn Confab"
Color silkscreen, c.1945
8 7/8 in. x 12 in. (225 mm x 305 mm)
No stated edition
Unframed

Availability: Sold
Price:

A superb impression of this extremely rare moody image with good margins---we have sold Bernard Steffen's work for about 40 years and have never seen another impression for sale. In a review in The Tech from an exhibition of American Screenprints the following description was made " Brilliant colors light up the skies in Bernard Steffen's "Dawn Confab"