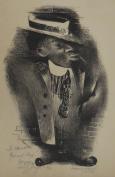 "Shorty George"
Lithograph, 1943
9 in. x 5 3/4 in. (229 mm x 146 mm)
Edition of 4
Unframed

Availability: In Stock
Price: $11,000

A fine impression of this exceptional portrait with large full margins---The image is a portrait of George "Shorty" Snowden, a dancer at the Savoy Ballroom in Harlem. He was thought to have coined the dance phrase "Lindy Hop". The dance is depicted in a lithograph by Miguel Covarrubias.